Voice actor and all-around great guy, Rowell Gormon – he's not just a T-Rex for a talking toy, a nobleman, a game show host, psychiatrist, or old west prospector. He's also been a cartoonist/puppeteer/co-host on a local TV kiddie show, has appeared onstage in local and regional productions, hosted award shows and live events, worked with a comedy/murder-mystery troupe in semi-improv shows, and even realized a dream of performing with Jim Henson's Muppets in two movies ("Elmo in Grouchland" and "Muppets in Space"). How cool is that! Let's learn a little more about Rowell in today's #TalentTuesday interview.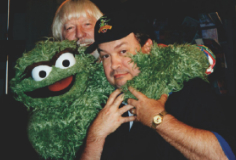 How long have you been working with ProComm? Just over 20 years.
What's your favorite part of voice acting? Becoming "someone else"
How did you get started in voiceover work? A childhood of cartoons, jobs in radio production.
When you're not behind a hot mic, what do you like to do? Read, watch old movies & cartoons.
Favorite album or recording artist(s)? Count Basie, 50s Sinatra, Spike Jones
Favorite Movie(s)/TV? the Maltese Falcon, Singin' In The Rain, Raiders of the Lost Ark, The Incredibles, Doctor Who, Fawlty Towers, the Muppet Show
What kinds of pets do you have? Mostly cats. One doggie.
What is one of your favorite vacations you've taken? Backstage at Disney World (including the tunnels under the Magic Kingdom)
If we looked in your refrigerator, what would we find? Diet Coke
What event do you remember most fondly from high school? Getting Out
Do you have any other special talents? Puppeteer, Cartoonist, Writer
Do you have a 'most memorable session'? Playing an old widower in a Hospice spot, and the director & writer got a little misty.
Favorite ad campaign over the years you've heard or seen that does NOT include your voice? The Mac/PC tv campaign a few years ago.
Dream career if not doing VO work, and could make a living? There's another line of work?